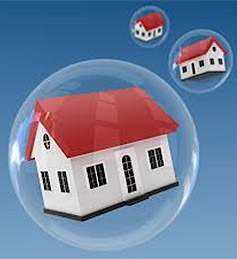 Home prices in Ca. rose about 25k in ONE MONTH. That was an 8% increase and 24.% from last year. WOW!!!! LA county home prices were up over 24% from last year.
This jump is being fueled not only by scarce inventory but by the fact that more expensive move up homes are involved.Flips are up big time and 30% of sales were by absentee owners.
So is this sustainable? Home prices are rising faster than incomes which can predict bubbles.
The experts got it wrong the last time around. (not me). I got out and told my students to do so also.
What do you think-bubble or no bubble?
Some say that this is just a reaction to long time pent up demand and that as more people put their homes up, prices will settle. Also, interest rates will start to rise as the feds stop pumping money into the system.
I agree. Prices will slow down. Some of the hedge funds will realize that this is not an easy business and dealing with tenants is not all its cracked up to be. Some of the get rich quick in real estate seminars will die down as folks realize you can't do things the old conventional way and expect to make money. So with inventory rising, and less people competing for deals, prices will slow.
That means you should be careful about what you buy right now.-don't get caught up in the fever. Only buy below market. However, if you are anticipating a rise each month in prices, factor that in when you are determining your after repaired value. If you are looking at a buy, fix and flip-holding for about 4 months, prices should be higher when you sell I think that a conservative amount would be 1% rise each month. So figure the arv to be 4% higher when you sell.
You need to know the market and how to find deals. Its not just searching the MLS. That is so yesterday. You need help in determining what works today.
Consider joining my small group mentoring starting May 18th.Call the office to find out more-310-792-6404.