by William Bronchick
They say that 1st impressions are lasting impressions. By improving a house exterior you can attract buyers to look inside, where hopefully you have also done other great improvements! Exterior improvements can add not only curb appeal but can add to your bottom line by commanding a higher selling price on the property and a quicker sale! When a potential buyer is looking for a property, you don't want them to imagine all of the money that they are going to have to sink into the property after they buy it; you want them to think about how great the home already is and what little "tweaks" they will undertake to truly make the property their own.
You will want to make the property curb appeal top notch and enticing for a possible buyer. Remember the "10 Rule of 1st Impressions": You want to attract your buyer and make a good impression within the first 10 seconds that they lay eyes on your property from as far as 10 yards away".
Here are some guidelines that may assist you in improving the property exterior and making the best out of the curb appeal of your property:
1. Exterior Paint. The exterior of the property needs to have a fresh, new look, even if the property is many years old! Start with the exterior paint itself. Does it appear new, but dirty? If so, sometimes a good power washing can make all of the difference in the world! We almost always paint the trim, even if it is in good shape to give the house a new appearance. However, more often than not, you will need to paint the whole exterior.
Make sure that you pick an appropriate color that will appeal to your buyers. Often a light or neutral color will do just fine especially if you offset it with a great trim color. Make sure that you check on any local or HOA ordinances that may limit your choices of colors. Make sure you also have a painter that will do a quality job when it comes to the prep work. Make sure the old paint is scraped, holes filled and siding or trim that needs to be replaced is taken care of. Use a quality grade of paint!
2. Front Door. The front door is a very important part of the overall curb appeal. We normally will paint ours a bright, complementary color that attracts the eye. Depending on the trim color, we may use the same color, or we might paint it a bright, but complementary color. Put down a nice Welcome mat!! If it's summer, a couple of pots of flowers on the front porch can really enhance the curb appeal. Hire a neighborhood kid to water the lawn and any potted or bedding plants. If it is winter, hire a service to make sure the walks and porch are cleared.
3. The Lawn. Make sure to keep the lawn mowed and watered. Have a lawn service cut it once a week or so and hire a neighborhood kid or retiree to water it a couple times a week. If the property has a sprinkler system, set it to water automatically. Fill in bare spots with lawn seed. A green, lush healthy garden is always something that captures the attention of a possible buyer.
4. Cleaning Out and Replacing Flower Beds. Clean out the dead plants and debris from the existing flower beds. Replenish the flowers and plants that are current for the season. Use a time release fertilizer so you don't have to fertilize again. Use bright colors for your flowers. Xeriscape plants can be used but be aware that they need fairly heavy watering their 1st year and then afterward need little care or water. Cover the beds with a brightly colored bark such as a red mulch to make the beds, flowers, and plants really "pop"! Make sure that the flowers you will purchase and plant are those that are in tune with the season. Ask a flower expert about the right plants and their proper care.
5.Windows. Check if the window needs repainting or new glass. Whatever you decide to do then make sure that the measurements are accurate so as to not waste time, effort and money in putting in new glass to the window's structure, only to find out that it doesn't fit. Keep the windows washed, as dirty windows not only make a property look bad on the outside but can also block light in the inside of the property and detract from the "light and airy" feel you want a potential buyer to experience.
If you are going to repair the windows, it will normally cost less than if you have it entirely replaced.  A handyman can normally do this. If not, call a company that measures and installs windows. Don't  "cheap it" on windows. New, energy-efficient windows are a big deal in the age of energy conservation.
6. Roof. When you first see a fixer-upper house, check if there are leaks in the roof. Some tell-tale signs would be possible mold and/or stagnation seen in the attic or on the top floor ceiling. Replacing a roof and the resulting water damage is a job that should be left to the experts.
7. Fencing. What positive impact does a good looking yard have if the fencing is a mess? A good looking, properly repaired fence adds to the exterior appeal and allows the home to be to presented at its finest, inside and outside.
8. Neighbors. The properties next to your latest project can have an impact on your buyers also. If you have a neighboring property that needs improvement, diplomatically offer to clean up the front yard. If exterior improvements are needed, then offer to have them done at cost. Most times these folks will be receptive to this- as long as they don't have to do it themselves.
Well, it's time to ramp up your marketing, so that you can acquire a fixer-upper and then apply these above principles. There is no time like the present, so go ahead and get started on your path to success!
Free eBook on how to protect your assets! Click Here.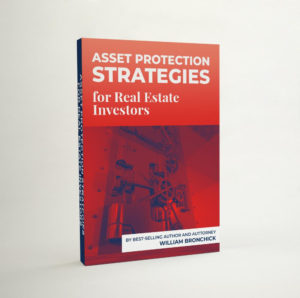 William (Bill) Bronchick is a best selling author, attorney, investor and mentor. Bill is also the son of Top Real Estate Expert, Phyllis Rockower. Before her recent death, Phyllis also ran the Los Angeles Real Estate Investor Club for many years. It was her wish to continue her legacy and to bring current and applicable information to her current and hopefully new, followers.