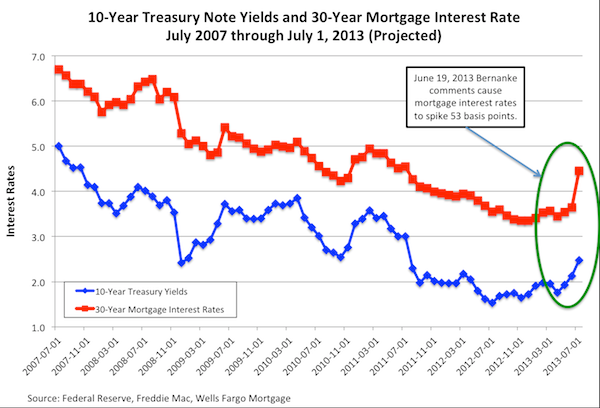 Fannie Mae said today that they have not changed their original forecast- growth will pick up in the second half of 2013.  Consumer fundamentals – steady job creation, recovery highs in consumer confidence – are supporting an improving picture of economic activity.  
Rising long-term interest rates could be a problem but the economists still expect the improving fundamentals, ongoing housing recovery, should help boost growth inflation adjusted GDP  (whatever that means). It should average about 2.5 percent for the rest of the year and 2.0 percent for the entire year.
The 30-year fixed mortgage rate increased more than 110 basis points from the first week of May to the end of June before easing somewhat in early July.  While rates are still historically low the report calls the recent spike over such a short period of time "significant" and thus it could potentially hurt housing activity.
New Home sales were up for the third straight month in May to the highest level since July 2008.
While  mortgage applications have declined by about 9.0 percent since early May, pending home sales jumped during the same period to the highest level in more than six years,.  Since cash sales play such a large role in the market – near one-third of existing home sales over the last year – sales may be less sensitive to rate changes than in the past.
While some homebuyers may be knocked out of the market by rising rates, other may jump in as they see rates and prices rising.   Let's see what happens