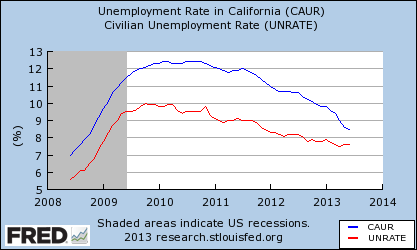 The state's unemployment rate fell to 8.5% in June, according to figures released Thursday by the state's Employment Development Department. That's down from 10.6% in June 2012, the steepest decline by any state during that time period.
It's not even. Some parts of the state have double-digit unemployment rates. Among the top five worst cities for unemployment, Mendota in Fresno County and Westmorland in Imperial County tied for the highest rates, at 33.9%.
Also, the sectors are uneven. Many of the jobs created are in lower paying jobs- many part time. Companies are still reluctant to hire full time.
 Still it bodes for more good news for housing. We need increases in our average income rates to sustain recovery. When the hedge funds leave, we need people earning more money so they can qualify for higher rates.
Los Angeles actually saw their unemployment rate rise from 9.6 to 9.7. So did Orange, San Diego and the Inland /empire see their rates rise.