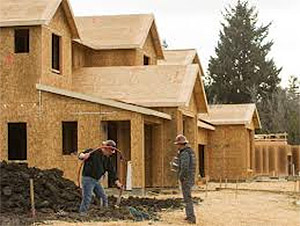 When you look at home sales the important thing to look for is not just sales but inventory.  It is mostly inventory that impacts prices. When we look at sales for existing homes you should look at the ratio  between conventional and distressed, not total sales. So, for those who follow housing closely, the existing home sales report on Monday was solid even though sales were down.However, for the new home sales report, the key number IS sales! An increase in sales adds to both GDP and employment The housing recovery is healthy and not in a bubble.
The Census Bureau reported that there were 244 new homes sold in the first half of 2013, up 28.4% from the 190 thousand sold during the same period in 2012. This was the highest sales for the first half of the year since 2008.
We are still low. This suggests significant upside over the next few years. As the economy improves, more people are leaving parents and doubling up situations to form new households Based on that , sales should increase to 750 to 800 thousand over the next several years – substantially higher than the current sales rate.
And an important point worth repeating : Housing is historically the best leading indicator for the economy
Another way to look at this is a ratio of existing to new home sales.
This ratio was fairly stable from 1994 through 2006, and then the flood of distressed sales kept the number of existing home sales elevated and depressed new home sales.
In general the ratio has been trending down – and is currently at the lowest level since November 2008. This ratio should continue to trend down over the next several years as the number of distressed sales declines and new home sales increase.
 We are slowly working our way through to a normal situation. As i reported before, hedge funds are slowing down so we have less competition. Any time demands eases and supply gains, prices will cool or maybe even drop a little.
SO STOP LISTENING TO THE BUBBLE NONSENSE. The market for investing is improving all the tme.