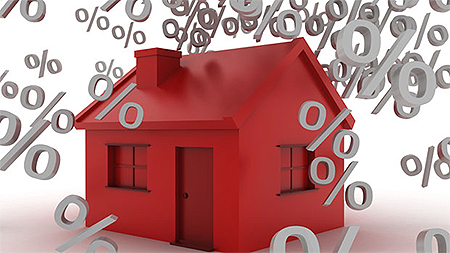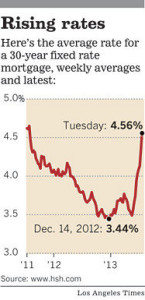 Current Mortgage rates are up a full percentage point above their recent record lows, raising costs for borrowers and questions about the housing recovery.
A standard 30-year fixed-rate home mortgage rate hit an average of 4.63% on Monday before backing off just slightly Tuesday, according to HSH Associates. That's up from 3.49% on May 3 and an all-time average low of 3.44% during a week in December
Higher rates mean folks can qualify for less of a mortgage- if at all. At 3.5%, a borrower who bought a Southern California home for May's median price of $368,000 would have a principal-and-interest payment of $1,322, assuming a 20% down payment.
At 4.5%, that payment rises to $1,492.
At At 6%, still a decent rate by historical standards, the payment goes up to $1,765.
Most experts suggest that rates will hit 5% by this time next year. If you have not purchased a house and you can qualify-DO IT NOW-. In fact buy 4 houses. You will thank me. Don't even look for a great deal. The low interest rate makes it a great deal.
If you can qualify and want to do a deal with me, let me know.