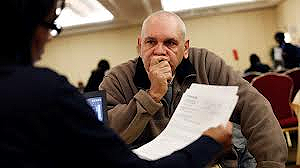 Think its hard to get  a loan? You ain't heard anything.The pendulum has swung so far to the other side- from granting a loan to anyone who breathes, to making it virtually impossible to most people. Forget even trying if you work for yourself.
Besides the normal requirements that do make sense, check these out.
Here are some stories of nutty requirements.
1. Verification of employment needed from a homemaker
2. Borrower asked to produce high school transcript
3. Verification needed for someone who had written a check to a grocer that it was not a loan
4.Explanation needed from a woman to find out why she changed her name after marriage.
The average fico score is 743. Only 37% of the population has a fico that high.
Do you see why i go after properties with owner financing  or subject to, even with no equity?. There are so many people who want houses without having to go through a bank. They will pay over market prices and will pay over market interest rates.
Want to learn how to do this? Join the upcoming small group mentoring May 18th.
Click here for more info.