By William Bronchick, ESQ
When it comes to making money in the business of flipping houses and other real estate investments you will find all kinds of do's and don'ts along the way. The truth of the matter is that these are extremely useful whether this is your first house flip or you have been flipping houses for years. In fact, you might just find that you can learn something new on occasion by reading lists such as this even if you've been flipping houses for years and have many successful flips under your belt.
Try to avoid these seven flipping "Faux Pas".
1. Failure to check out the neighborhood before (and after) you buy.
You will want to make sure that the property you are considering is a good fit for the neighborhood. You should also take the time to make sure that the plan you have in mind for the property will match well with the other neighborhood residents in order to guarantee a quicker sale.
Once you've bought the property, visit every house for sale in the area. Take note of the condition and finishes of the properties, because this is what your house should look like when you are done, no more, no less.
2. Blowing your budget.
Your budget is what you used to determine whether or not the house would be a profitable venture. If you blow your budget and cannot recover the extra money you've spent in the selling price on the house you will have seriously cut into your profits if not eliminated them all together. The goal in property flipping is to get in and out quickly and spend as little money as possible in order to make as much money as possible. It's tempting to want to add things as you go, but if you won't get $1.50 to $2.00 back for every dollar you spend on improvements, skip it.
3. Failure to stay on track
Set weekly goals and hold yourself accountable. If you don't reach your goals for the week it can set the entire project back by as much as a month depending on the goals and what has to be rearranged as a result. Stick to your timeline and your schedule in order to avoid potentially costly delays in time and money.
Plan backward from your listing date. For example, if you plan on listing it in 60 days, then you should be ready for cleanup and staging by 55 days out. You should be done with all work and permit inspections by 45 days out, leaving 10 days for any changes that are necessary.   And so on….
4.  Not putting it in writing with your contractors
Make sure you have a good written agreement with your contractors that spell out completion dates. Give yourself plenty of room for potential surprises that come with the territory – both in cost overruns and time overruns. Make sure that if there are any changes to the project you have hired a contractor for they are in WRITING. This will avoid disagreements later that often with changes to the work order.
5. Neglecting the exterior.
Curb appeal is what brings buyers to the property. If you spend all your money, time, and effort making improvements to the interior of the home you will have little left to make the outside appealing to potential buyers. A home that looks run down on the outside leaves the impression of being neglected on the inside and many potential buyers will never walk inside if the outside looks unappealing. If you want to sell the property before it's completely finished, start with the outside and neighbors will want to peek in out of curiosity. You may get lucky and get it sold without having to list it with a broker!
6. Spending the money you don't need to spend.
While it would be great to put in granite countertops and high-end appliances into every home it isn't always practical and this is often money that will not be recovered, particularly in homes that are in marginal neighborhoods. If you want to get the most for your money avoid costly expenses that aren't exactly necessary for the successful completion of the flip. Resurface bathroom fixtures rather than replacing them if possible, and use new cabinet doors or hardware rather than adding new cabinets all together to cut down on expenses. In other words, salvage what you can, fix what needs to be fixed, and add a few cosmetic touches before moving on. In this regard, it is imperative that you look at other houses for sale in the neighborhood to see what level of finish is required. You don't want to have the most expensive or cheapest house for sale; you want the house that's the best VALUE for the money. Thus, it's a delicate balance between budget and necessary repairs, which will come with experience. When in doubt, spend less on repairs, price your house cheaper for resale, and move it quickly.
7. Poor "virtual curb appeal"
Most buyers initially look for houses online, which is why it is critically important to have top-notch photos of the house you are selling. Unless your listing broker is a photography expert, opt for a professional to take A+ photos and a video tour of the house for online browsers. Finally, make sure that you update your photos regularly if the house does not sell immediately. There's nothing worse than photos of snow around your house when it's June – potential buyers will see that the house has been for sale for a while and their offers will reflect the fact that they smell blood in the water!
Of course, having a trusted mentor or advisor to help you along your path to success can really help speed up the process and avoid these (and other) faux pas!
Free eBook on how to wholesale properties! Click Here!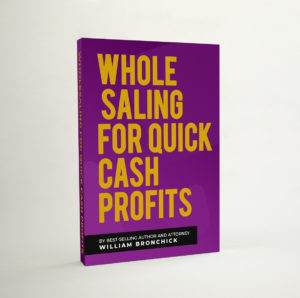 William (Bill) Bronchick is a best selling author, attorney, investor and mentor. Bill is also the son of Top Real Estate Expert, Phyllis Rockower. Before her recent death, Phyllis also ran the Los Angeles Real Estate Investor Club for many years. It was her wish to continue her legacy and to bring current and applicable information to her current and hopefully new, followers.